There are only 100 days left in 2021, time flies. Acsexdolls has come a long way to become the most promising sex doll store in this industry. And thank you for being there for supporting us during this challenging time. Therefore, we're here to offer you a great deal of giveaways sex doll heads, and torsos to liberate your body's energy in a new way.
This year we have gained a lot of great reputations for our "heavy weight' sexy doll, so here we selected the 5 best BBW sex dolls as your perfect new year gift. Happy "wife" leads to happy sex.
Amelia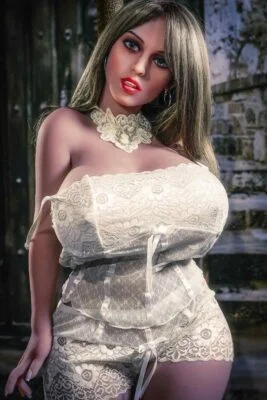 Most of the sexy women that we have seen in media are thin and slender but it doesn't mean that all men are fonding of the slim girl, there is a lot of men who are crazy about oversize women, they are cuter and sexier with their super big boobs and cute belly roll. Of course, the big size may cause some certain sex positions not to work so well, but we believe that the men who like BBW women are strong and tough enough to carry your sexy godness, if you are a thin guy, you could choose the skinny sex doll over the BBW sex doll.
Amelia is a sexy baby that no man can resist, she has beautiful eyes and sexy lips, she never feels shame about her big size shape but is confident about her body and sex skills. She can take you to the next level of happy sex. Most of the men are desiring sex with BBW women, but do not have the chance to have it. Now, Amelia is here to fulfill all your sex fantasy with an oversize girl, she is hot and chubby.
Amelia has huge boobs, strong thigh and is curvy, her waist is small, and you can hug it tightly while banging her from behind. You cannot ask for a better shape and figure when you are looking for a BBW sex doll. She is thick but not fat. You can have whatever height you want. Amelia is a mature woman who is willing to give your happiness and joy, the "mom" look gives you comfort and warmth when you had a long day. She is the one who is happy to explore every sex adventure with you and she is good at roleplaying.
Stella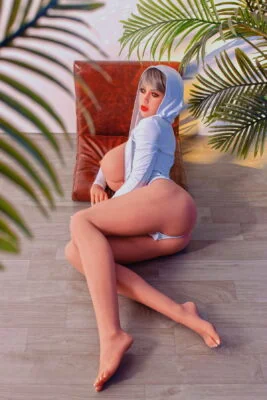 The chubby sex doll, an great sex toy for fulfilling a man's sex desire, is now becoming a craze in the sex doll market. Isn't it a beautiful thing if you get a big size sex doll that has exactly the same look you like for a BBW lady? The sexy big curves, fat buttocks, and huge boobs, all perfect sculpted into a shape that looks like a real woman. So why not give it a try?
Stella is made of TPE material, her skin is very natural and close to human skin. You can't tell the difference between her and real women when you turn off the light. TPE is very famous when it comes to producing the sex doll, it features flexibility, odorlessness, softness, and ease of usability. So you can feel the most realistic touch feeling for a BBW sex doll, and it's super safe for your body.
Stella comes with her short hair and prominent curvey body, a pair of deep green eyes make her more special. A perfect plus-size sex doll for serving the erotic desires of men and women. She is also a great sex toy for lesbians, some women who are afraid of going outside to search for a date as lesbian but still desire lesbian sex, Stella is your best to go, she will help to know your body more and improving your sex skills, you can have your first amazing lesbian sex with all the orifices available for penetration.
Donna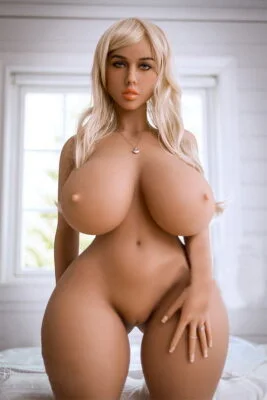 Who doesn't dream about making out with big beautiful women? Some men think that BBW sex doll is too big to handle certain sex positions. Well, we've got news for you! Yes, you can do whatever sex positions with her! All of our big size sex doll's heights from 135cm-163cm are weigh less than 55kg, it's only half weight of real big women. To be honest, the sex doll is not like a real woman, so you need to do all the work, like posing positions and moving her during the sex. Besides, Doggy, Cowgirl, Sponning are the best sex position for fat girls.
Donna has killer curves, huge tits, a strong thigh, and a big buttock, you can't find such a perfect lady from real life. She is designed to be a BBW sex doll so that you can fulfill all your lust desire for her. She never asks you anything back but is obedient to you, all she needs is to make you happy. Donna is our best-selling fat girl and every man deserves to have her in his bed.
Evelyn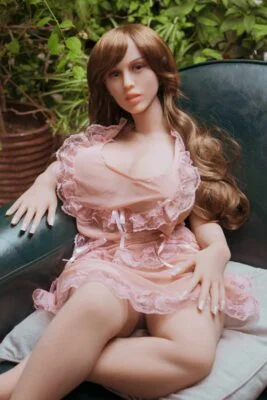 Acsexdolls has been in the sex doll market for almost 5 years, and we realize that not everyone likes a slim and skinny model-look girl. Some men love huge boobs, curvy bodies, and big ass, some men like an older lady or alien look dolls, and different persons have different tastes of women, and we don't judge that.
Evelyn is one of the most attractive sex dolls in our store and is loved by our customers. She is made of TPE material, which is super realistic and close to human skin, her wobbling ass and boobs will blow your mind during the sex. She is super flexible, great for any sex position. Evelyn is a mature woman living next to you, she has the best sex skills and is good at bed. The more you look at her, the more you fall for her. You can use all her 3 openings to attain the best pleasures as she has a sexy mouth, fat ass, and juicy vagina to offer to you.
Nevaeh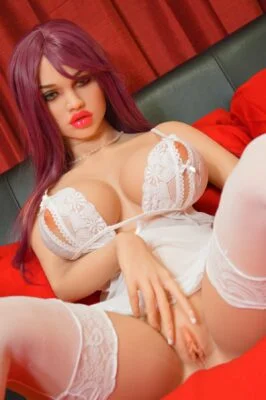 Men like BBW because they offer physical attributes that men will like to see and many plus-size women are confident, funny, and sexy. In addition, we do not have many chances to know about a real BBW, and it's not easy to ask them out. Even if you did, it's too time-consuming for getting laid. In a romantic relationship, you need to care about you girl's feeling and buy her gift from time to time. So here comes sex doll to make things easier for you. You can have sex anytime you want, anywhere you like, even your nasty desire can be fulfilled without any judgment.
Nevaeh owning seductive and sexy lips is somehow considered a privilege of any woman. And she makes her sexy lips turn out a sharp weapon for seducing a man. Sexy eyes and long purple hair are some of the other alluring features that set her apart from the other BBW dolls. She has prominent pussy and the thickness of their bodies makes you get excited instantly.
She does not only have the best looking of BBW sex dolls but with 3 real human openings ready to blow your mind.
Final word
Chubby and thick women are always a fascination for men, but during this pandemic, everything is become more difficult let alone having sexual intercourse with a real BBW. But with these life-like BBW sex dolls, nothing is impossible. The beautiful look, curvy body, fat ass, thick thigh, and huge rounded boobs can be used for satisfying your desire.