Are you interested in Thailand transgender? When you travel to Thailand, you will be attracted by the beauty of the transgender. Thailand's ladyboys are actually famous all over the world and many travelers go to Thailand specifically to meet them. and they are better known as"ladyboys".
Besides, the report said that 37%-49% man want to experience same-sex intercourse, but not all of them can have one because transgender is not widely accepted in our society, not alone having a trans in your bedroom.
Maybe it's not easy to find a ladyboy in your real life, but thanks to the development of technology, you can find anything on the Internet. The sex doll industry gives us the best replacement to fulfill all your sex fantasies of transgenders, the shemale sex doll. As long as you want it, she can be made in any look you like. 
Why Shemale Sex Doll is Better Than a Female Sex Doll?
You can enjoy the pleasure of both pussy and dick with one life-like sex doll.
They both have female and male parts, it's great for solo play and also for couples.
You don't really need to go to Thailand, but also can fulfill your femboy or ladyboy fantasy.
The tranny sex doll is highly versatile, and deeply satisfying in each way!
3 Best Shemale Sex Dolls to Get You Started
Every man has a sexual and emotional appetite. Most 'hetero' males aren't as straight as they think. It doesn't mean they're gay or bisexual but maybe just curious. If you find that ladyboy is attracted to you, why don't you give it a try, not with a real one but with a realistic shemale sex doll, and figure out what's your sexuality?
In the market, there are full of different types of dolls, mini sex dolls, male sex dolls, BBW sex dolls, blonde sex dolls, even the transgender sex doll is now available in the market. When it comes to the full body shemale sex doll, Cornelia is always the first doll that comes into my mind. She is blonde, sexy, and fun. You can notice all the detail of her face, body. The sexy lips, deep brown eyes, and small face make her super close to the real woman.
Her body is super soft due to the TPE material, which is the best and safe material that makes the sex doll. The best part? She has an 18cm penis to offer you the best transsexual experience in your life. And you don't have to travel to Thailand or other Asian countries to openly be with transsexuals because you can get a doll that has the same sex function as them. Besides, the penis is removable, once you remove the penis, she becomes a lifelike woman with a wet and tight pussy, you can enjoy both female and male joy with this ladyboy.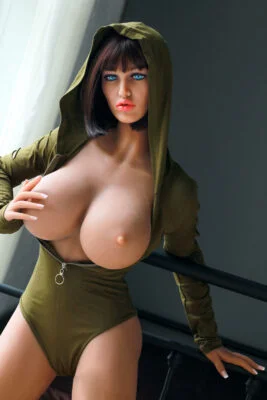 Can you imagine having a girl and a guy blended into one unique being?
People love the transgender sex doll – and for good reason. There are amazing parts for both sexes. Shemale sex doll has everything that TPE sex doll and silicone sex doll has but with something extra. By owning a shemale love doll, you can squeeze the big boobs while the huge dick inside you, it's crazy. Shemale sex doll is always the best sex toy for couples who wanna try a threesome. She is great for both women and men. As it has female and male parts, your partner and you can both enjoy sexual pleasure at the same time.
If you are looking for an exotic experience with the shemale, Sabina will be the one that you can forget once you lay eyes on her. Her sexy face, glowing eyes, short hair, huge D-cup boos, and big ass is a combination you wouldn't want to miss. She is the one like rough, as her body built-in steel skeleton that makes her able to handle any sex position and move around anywhere you want.
Everything about Sabina is excellent. She has a removable dick, which makes her more versatile and makes cleaning delightful. She can please your partner and you with her hard dick, tight pussy, mouth, or round ass. Sabina is the best BBW shemale sex doll in the world.
In the sex doll market, most full-body sex dolls are with female or male body parts, but with shemale love doll, you can experience both pleasures at the same time. You can explore the new way of your sexual life. Some people are more adventurous in their sexual life, and couples love to try anything new and explore the most exciting activity with their partner. By having the shemale sex doll, they can both enjoy watching and playing without cheating each other.
Sebastiane is the most popular Japanese shemale sex doll in our store, and people who bought her love her deeply and want to marry her. Don't let her innocent look fool you, she got an 18cm huge dick for you to play with. She was developed by the best designers, and the detail of her face and body make her the most realistic Japanese ladyboy sex doll. She is such an angel that only listens to whatever you say, and does whatever you tell her to do. Sebastinae has the softest and smooth skin because she is made by the TPE material, it's odorless, safe, and flexible. No doubt, this beauty is the tranny love doll of your dream.
How to Have Sex With Shemale Sex Doll?
Well, having sex with a shemale sex doll is nothing different from having sex with a regular full-body sex doll. If you like vagina sex intercourse, you can remove her penis and enjoy the female pleasure. If you like having a dick inside you, install the penis into her opening, and ride as hard as you can.
Final word
Shemale sex doll has everything you want from a male and female. Buying a full-body transgender sex doll is a big decision, whether you are looking for an exciting orgasm or exploring new adventures of your boring sexual life, it's important to choose the right and fit shemale sex doll, the one that really meets all your needs. It can be used as you wish, all you need is a little imagination, get one and enjoy yourself.