A threesome is a common sexual fantasy among people. But not all people acted on it, because they are afraid this behavior will be regarded as cheating, and is not safe to bring someone to their bedroom. Especially for couples, they are not sure they are comfortable being touched by other people or if they can get "turn on" with another man or woman on the bed.
Sex is vast and there is so much to try. If you have this threesome fantasy and don't want your partner to treat this as cheating. Bring a sex doll is the best and safe way for the first time threesome. Many couples find a threesome with sex doll is a safe way to introduce another partner as there are no emotions. It's sexual exploration without cheating.
The advantages of having a threesome with a sex doll
1. Change your ordinary sex scenario
If you two have been in a relationship for many years, it's normal to get boring during sex. But having sex with a sex doll could completely change your sex life. It's new and exciting to have other people involved in, there's a whole new level of fun. You will love to create an environment of pleasure for someone you care about.
2. Improve your sex skill and confidence
You can talk and plan what sex position gonna use, having a threesome can practice a lot of sex position you never had before. Like, kissing one person while another gives you oral sex or lying down the sex doll, watch two girls play with each other would make such visual enjoyment. Thus, you will learn a lot during threesome sex. You will be more confident in front of your partner and even in your life.
3. Enhance affection for couples
Not only you but also your partner feel fresh and fancy for having a threesome with a sex doll. You and your partner could play different positions and role play games during sex. Having a good sex life would enhance your relationship and intimacy. Happy wife, happy life.
4. Avoid cheating in the relationship
Human nature decided we are always longing and curious about something new. Having a threesome with a sex doll have no emotional connection, and they are not expect anything in return. You can rest assured that add fun and level up your encounter in bed with your partner without cheating.
5. No risk of disease/STI's
All the sex dolls are made of the world's best material-TPE and silicone, it's safe, soft, and odorless, you don't have to worry about the disease and getting your third partner pregnant.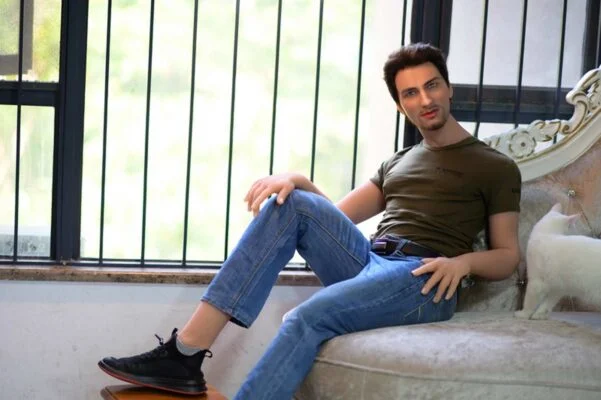 How to choose a sex doll to have a better threesome?
1. Weight-lighted
A weight-lighted sex doll is more convenient than a heavy one, it's easy to carry and store. These are some small sex dolls that feature lightweight among 100cm to125cm tall and 10kg to 16.3kgs.
2. Flexible Joints
A threesome has higher requirements in sex positions. So the doll you buy needs to be built-in flexible joints. All of ACSEXDOLLS we are selling now are all built with 24 flexible joints all over the limbs and even in the neck. So the head can be rotated according to your requests.
3. Delicate appearance and body
If you don't have a sex doll, it's better to pick up one with your partner. You two decides together which one and which gender you would like to buy. Otherwise, if you buy one, but your partner doesn't like it. It may lead to the threesome failing. Here are some beautiful young love dolls your partner must like.
4. Sexual Orifices
Most of the sex dolls we are selling have 3 orifices for a sexual purpose, includes mouth, vagina, and anus. If you own a versatile sex doll, you could unlock more threesome positions.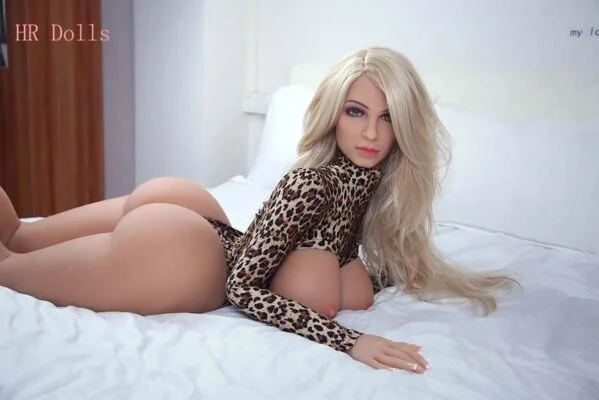 The best threesome positions recommendation
You can just let your imagination run wild with these threesome positions, no fantasy can go untouched as long as you are creative. Here we have some recommendations based on different genders, 1 male 2 females (MFF), and 2 males 1 female (MMF).
Firstly let's start with 2 males 1 female (MMF).
1. The High 5
The woman kneels down on her legs and hands, one guy penetrates her pussy or anus from behind in doggy style. And the other guy penetrates her mouth for having a blow job. Whatever you own a male sex doll or a female sex doll, this is a versatile position.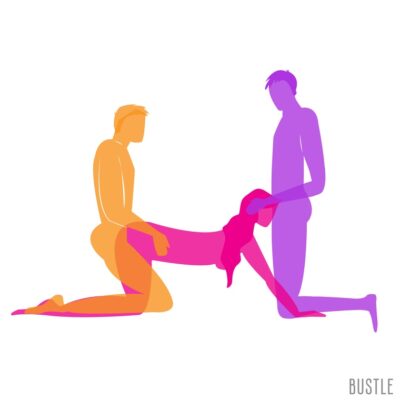 2. The Double Stuff
A lot of women fantasize about double penetration, so this is an insanely hot position. One guy lays on his back and the girl sits on top and rides him in cowgirl style. The other guy stands and approaches the woman from behind and enters her anally. If you own a male sex doll, your female partner could fulfill her double penetration dream.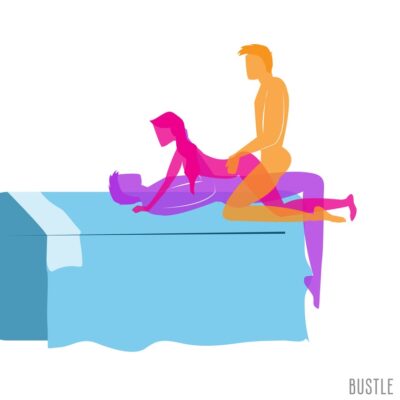 3. The Doggy Blowjob
This is a great position for men who want to have anal during the threesome. It's also good for women who enjoy oral satisfaction. One guy and one girl in the doggy style and the other guy lays on his back. It's easy to be performed whatever you own a male or female sex doll.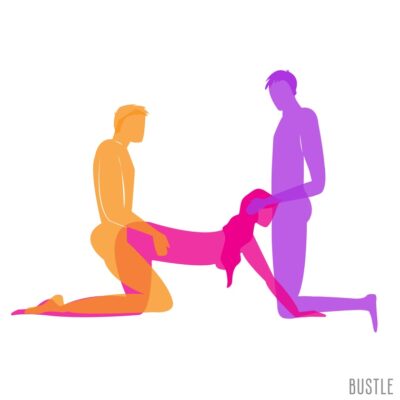 Now we guide to 1 male 2 females (MFF)
1. Double Cowgirls
This is a kind of classic MFF position. It's not too tricky and the 3 of you are equally involved in it. The guy lays on his back and one girl rides his penis, and the other girl sits on his face. While the 2 girls can touch and kiss each other. And the 2 girl's positions can be switched once in a while.
2. The Sandwich Style
This is a versatile position to play with your partner. One girl lays down and the other girl lays down face to face with her. The guy has 2 pussies and 2 anuses to penetrate in. The other interesting way has more fun in this position. The lower or upper girl can wear a strap-on dildo to play with the other one at the same time. One position can be created in different ways for more participation.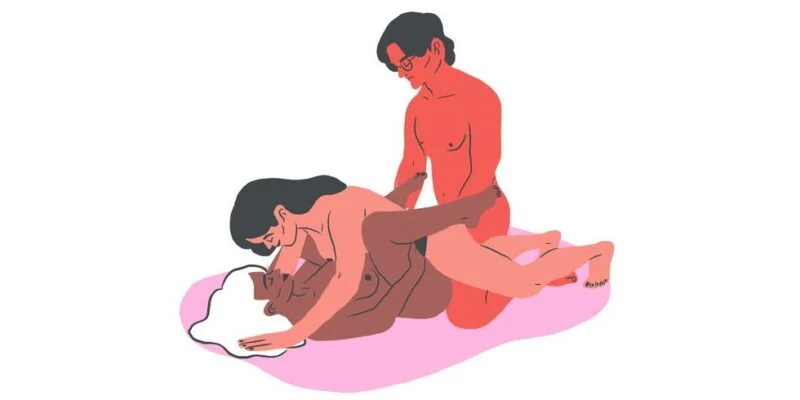 3. The Fever Dream
If you own a female sex doll, this is the position you never experienced before. One guy and the doll lays down and the guy enters the doll from behind. Your partner could kiss your balls and watch you roughly pounding the sex doll. The best visual stimulation for your female partner.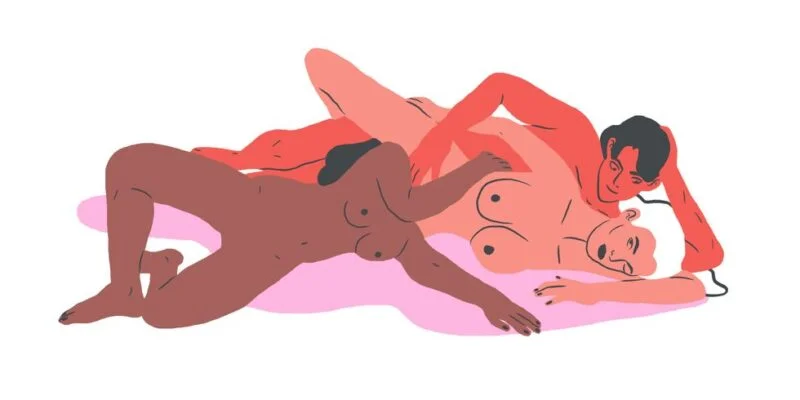 Other advice
1. Buy Small Sex Toys
By buying some small sex toys like a dildo and vibrator, you could unlock more threesome positions as you can. Moreover, a dildo or a vibrator is the best sex toy during foreplay.
2. Dim the Light
Having sex in a dimly lit room is better than a fully bright or darkroom. If possible light a candle is more romantic.
3. Play Music
Play some romantic music would also help a lot if 2 of you are a little bit nervous to have sex with a sex doll. Both of you can be relaxed along with the song playing.
4. Role Play Games
Before having sex, play some games completely helps involve in the story. And then start acting your story for the entire sex process. You and your partner would be addicted to it.