Sex doll is quite expensive when comparing to sex toys like a dildo or vibrator. However, sex doll has their biggest advantage for having the human body shape and realistic looking to fulfill people sexual needs, as well as the desire of having sex with a woman.
According to the report, sex doll owners now reporting twice as many weekly purchases compared to what they were seeing before the coronavirus outbreak.
Besides, sex doll prices can be range from $200-$10000, therefore, many factories and stores are seeking the opportunity to open their sex doll business and gain a huge profit. Sadly, not all love doll manufacturers and retailers are honest. Some of them are legit with high-quality sex dolls, but others selling fake sex dolls(which is harmful to your body) for a quick sale. It's hard to find a real and legit store than ever before.
Therefore, we come up with the best 6 ways to help you determine whether it's real or not.
1. Poorly-written English
90% of all sex dolls are manufactured in China, so as the sex doll websites. Some of them are willing to pay a lot of money to present a better English language website, but others using Google translate into the bad spelling, punctuation, and grammar site. If they don't take this business seriously, you can't even read a complete sentence of their content.
2. Local Warehouse
Buy a doll from a company that has dolls stocked in their warehouse, it's safer to shipping from your country. And it also means they do spend the money on the business.
3. Avoid Alixpress and Alibaba
These platforms are full of fake sex dolls to lure you with very attractive prices. Some AliExpress sellers mixed authentic and fake sex dolls to have positive evaluations at the beginning and hide the negative ones to continue the scam.
4. Payment methods
Credit cards and PayPal are the safest ways to pay for purchases, for sure, and you will be under their protection and have the option to recover your money if you stumble upon a scam.
5. Ready doll images
Always check the factory image before you purchase, make sure that every detail of the doll is right, if possible, ask them for factory video to double assure the authenticity.
6. Real buyer reviews
The most important thing is to read the real buyer reviews from the TDF and get the real information from someone they actually purchased. Do not trust the reviews from the sex doll website, sometimes they fake it to earn you trust. Here are some reviews of Acsexdolls: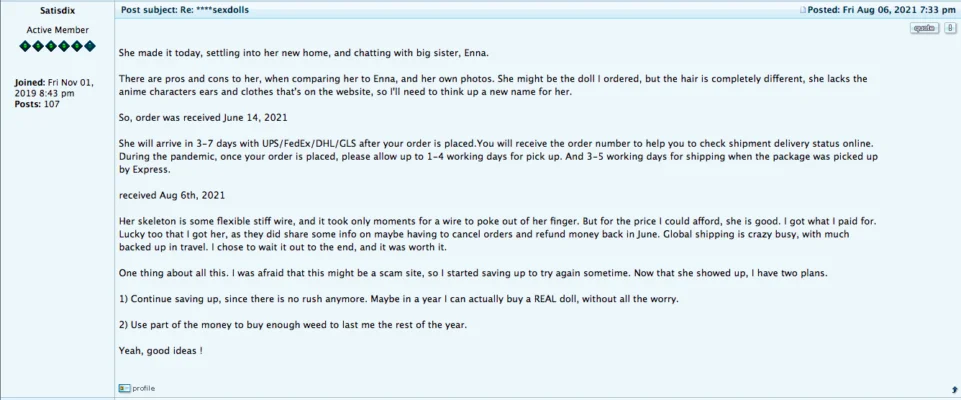 Is Acsexdolls legit?
There is a lot of buyers and sex doll lovers from The Doll Forum who ask us about this question, and we always said: "Yes, we are legit and are in no way a scam." Some of the buyers believe us and others do not. It seems that no matter how many times we explain it, it makes us more scammer. Internet is a place that full of keyboard warriors, we can't explain all and have no right to ask them to like us.
The cheaper doesn't mean low-quality
Yes, we all know that price equals perceived quality, but sometimes they can be overcharged. What's more, nearly all sex dolls websites offer the exact same dolls, so do we, because these dolls are best sellers. As we own a huge sex doll factory that produces and designs love dolls on our own, so that we can reduce the supply chain, shipping costs and bring more affordable prices to you. We ain't like the reseller that needs to stock the dolls from the factory so that they have to raise their price to gain more profit.
Real buyer reviews from The Doll Forum
Yes, we don't own a page of our store now but we will soon. As we sell the lower price sex doll than other stores, most buyers won't believe us is legit. Moreover, many people are keeping saying that we are scammers, even they didn't buy a doll from us. Here are some real buyer reviews from those who purchased the sex doll from us.

We keep updating our blog
If we are a scammer, we don't bother to update our content or our sex doll story, it's quite time-consuming work. Although we are a sex doll store, we like to share more useful information and advice with our buyers. Hence, we keep updating our blog once a week to bring more valuable knowledge.
You can always get a quick respond
We have the best rates with excellent customer feedback. 24/7 365 cover services. You can contact us via online chat or email(service@acsexdolls.com), there is no complaint about our service, we always take our customer's needs as our top priority and help them with purchasing and after service. If you can't contact us online, you can always leave a message on our email and we will get back to you within 12 hours.
We have the social media support
We created our Facebook and Twitter business pages to gather our customers, prospects, and fans to provide reviews, share opinions, voice concerns, and offer feedback. Therefore, we have been keeping our fans posted about our interesting links and useful, relevant articles. We would love to connect with our customers and hear feedback from you. I think no scammers have to spend their time on build a following of a company if they are just for a quick sale.
We can offer immediately deliverable
We have set up 7 overseas warehouses all over the world to provide fast and instant shipping, which means we have stocked dolls in our warehouse. Furthermore, every doll was inspected and pass the QC standards before we shipping them. To pick up your doll in a local warehouse is the best method to avoid being scammed.
Final word
We know that you must be excited about owning a sex doll, especially she is your first one. But before you make the final decision, do some search, read reviews and find more information about the company. To make sure that everything is right and legit. No one wants a fake and low-quality sex partner. Above are some best ways to determine if a sex doll website is real or not. If you have any other thoughts, comment on below comment section.