Acsexdolls is always aiming to improve the shopping experience by developing the usability, convenience, performance, and efficiency of customer interaction with our website. You will have the simplest and best shopping experience you ever have while shopping for a sex doll online.
In this toturial, we will guide you through how to place the order in your Phones and PC. And please follow the steps carefully:
Step 1: We try our best to display the best sex dolls for customers by going through our product catalog. You will find all collections in the top menu bar, by clicking on that you will find more detailed collections by figure, race and gender etc. You are also able to use the sidebar to filter the doll you expect to pick up by price, brand and height etc. As the following pictures show below.
Computer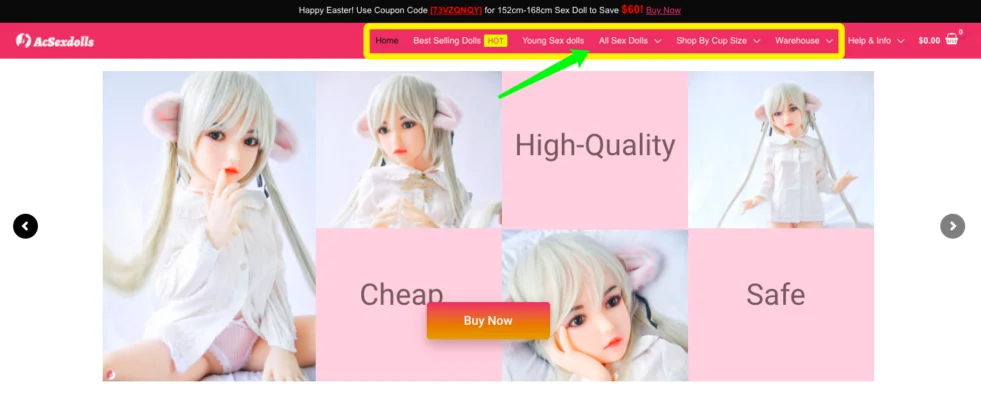 Mobile Phone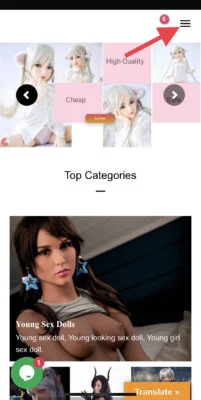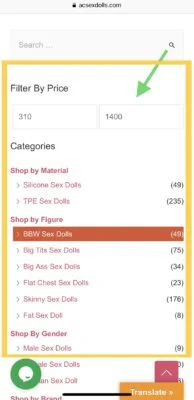 Step 2: You can click any doll you desire. And scroll down to read more sex doll detail description, measurement chart. Also, there are more beautiful sex doll pictures to show her body from a different angle.
Step 3: After viewing all the above information you can make up your mind to purchase the doll, don't forget to pick up the height option, Then click the "Add to Cart" button to add the doll to your cart.
Computer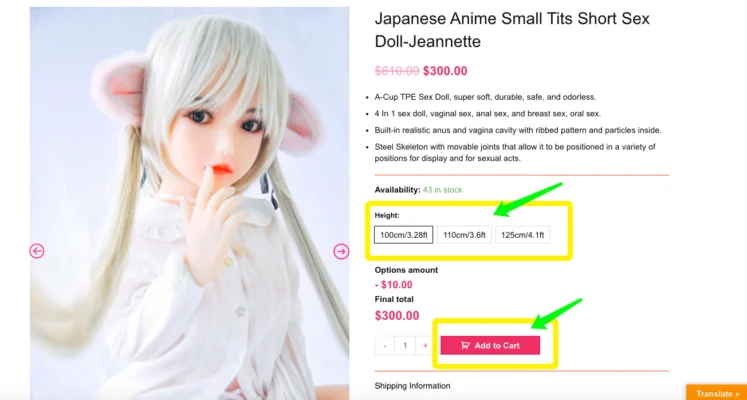 Mobile Phone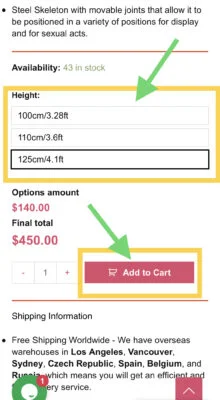 Step 4: Now please check your cart page where you can review your doll and proceed to checkout for payment. If you don't pick up the right height, please click "edit options". And if any coupon is available, please apply your coupon in the left inputbox of the page. Then click " proceed to checkout".
Computer
Mobile Phone
Step 5: Finally, we redirect to the checkout page. You need to fill in more information :
1. The first part is the "billing address" which means shipping address, please fill
in as detailed as you can.
2. The second part is the "order note" where you can mention any special requests.
If your billing address is different from your shipping address, please leave a note here.
3. The third part is your card information, please make sure your personal
information is correct.
After filling in all the above information, please click "place order".
Computer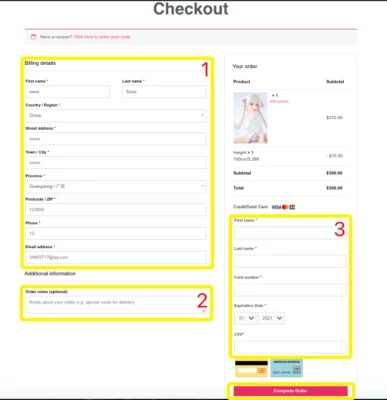 Mobile Phone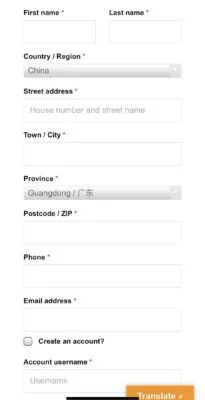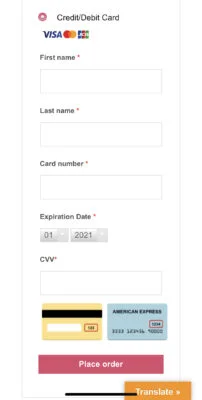 Step 6: Now, you will direct to payment page, sometimes you have to wait a moment to reload the page. We accept both credit card and debit card, your information will be securely submitted to the bank. To ensure your security, we also use anti-fraud (SSL encrypted) technology.
Now your order is completed and payment is submitted, You will receive a order confirm email and if you want to change anything at that point, you are welcome to reply to the order confirmation email.
During the pandamic, it takes 1-4 days to ship the sex doll and around 5-10 days to deliver the doll to your shipping address. And we will provide you with a tracking number so you can keep track your order.

Once you receive your new sex doll we hope to hear from you. If you have any questions during the shopping process please reach out to us via live chat or email: service@acsexdolls.com