Sex doll offers the sex needs and companionship for people who are lonely or lost partners. It's a great masturbation toy to fulfill their wildest sex fantasy and desires. However, a sex doll is not a cheap product that everyone can afford. So before you buy your first one, you may want to ask someone that had the experience of having a sex doll. Thus, the sex doll forum is the best place for love doll admires and buyers to get help and identify the good or bad sex doll or sex doll online store.
These top 8 sex doll forum has been picked up for both sex doll lovers and buyers, to keep up the sex doll news and buying guides, and get help from an experienced one.
1. Bedbible

Bedbible is the biggest resource online for sex doll reviews. On Bedbible.com you can find sex doll top lists of the best tested and reviewed sex dolls. Additionally, they purchase sex dolls from all the major shops and rate them on delivery (speed and discreetness), as well as general trustworthiness and the quality of the dolls. Sex dolls are very expensive products, so before buying one you owe it to yourself to do your research.
No matter if you are planning on getting a cheap sex doll or maybe a more expensive robot sex doll from RealDoll made of silicone, then you should definitely take the time to read through reviews that others have made. The very best place is a sex doll review platform like Bedbible, where every day users share their sex doll experiences and reviews.
2. Dollforum
Dollforum is also known as TDF, is the largest sex doll community website with over 70,000 members and close to 2 million posts, it was created in 2001. They have thousands of different types of sex doll pictures, information forums, and reviews on love dolls from inflatables to high-end silicone love dolls. They can provide sex doll information for love doll enthusiasts on various brands, manufacturers, and vendors.
Dollforum is a good place for sex doll admires to share their experience and get help quickly. If you love a certain sex doll brand, but wonder about the quality of their dolls, Dollforum has the brand forum to get you through all the brand sex doll. And you can have the confidence buy the sex doll which listed in their website because those love doll vendor all have been vetted by TDF Management.
TDF is not an e-commerce platform, so you can't sell the second use sex doll on here.
3. Ourdollcommunity

Ourdollcommunity was created in 2006. It is a popular sex doll forum for discussing and exchange the idea of purchase, maintenance, and repair sex dolls. If you own a doll, are looking to buy, or are just interested in life sized dolls, then you will find useful information here.
There are thousands of sex doll photos been updated constantly, you can always find their monthly photo challenge winners and the ones that you like most. You are allowed to get help quickly here as there are hundreds of active users every day. If you looking for a professional sex doll community, and are interested in a mini sex doll, TPE sex doll, and Asian sex doll, Ourdollcommunity is here to help you.
4. Sexdollforum

The sex doll forum is the best place for people who live in Canada and American to discuss and share the experience of the realistic sex doll. They have been keep update the topics and posts since 2019, though, it's not created for a long time, its goal is to build a most professional sex doll forum. They have a sex doll album for you to uploads your photos.
The best part? You can sell the sex doll here if you are tired of your old doll. But the website takes no responsibility for the product sold. You need to ask for the detailed information by yourself before buying. Furthermore, they cover the sex doll manufacturers and a wholesale section for you, if you ready to buy a brand sex doll or wholesale, you can find the helpful information here. Note: keep your eyes open before you buy.
5. Coverdoll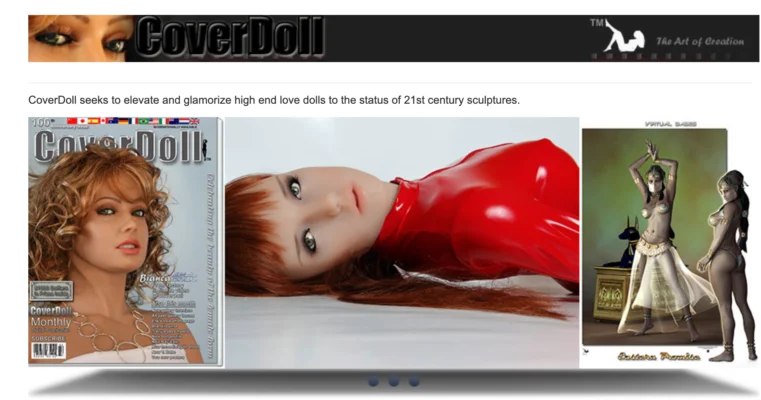 Coverdoll is a great place for people who like sex doll pictures. It allows sex doll admires to share their experiences with their dolls. It also publishes an e-magazine every month which contains the stories and photos of the users. They also have a blog to help you keep up with the latest news of sex dolls.
6. Dollsfrance

Dollsfrance is a sex doll forum created for France sex doll lovers. There are 6958 posts in 891 topics about sex doll ideas and user experience. Ask a question if you are a new buyer or interested in dolls. And they are providing tips and tricks for users, all advice relating to the maintenance or modification of dolls.
What's more, if you have a used sex doll and try to sell it out, Dollfrance offers this service. If you are a sex doll photos lovers and also enjoy sharing your sex doll, add your photo or video to a certain section, and share your experience with others. It's fun and great to have someone with the same hobby.
7. Reddit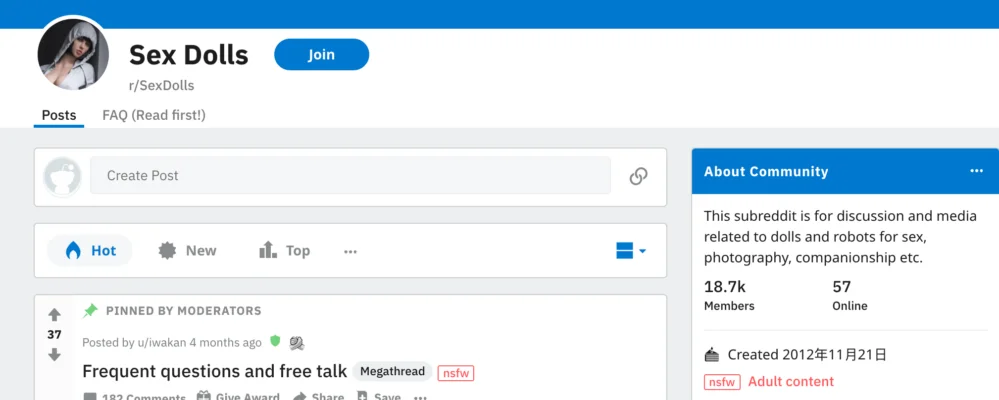 I love Reddit. It's a great community for everyone who has questions. Every day, millions of people around the world post, vote, and comment in communities organized around their interests. You can share the sex doll experience and ideas by posting stories, links, images, and videos. And your comments & posts can be upvoted or downvoted. The most interesting content rises to the top that means you can always find the most popular content.
Wrap up
Buying a realistic sex doll can fulfill your needs, and have endless fun with her. There are many types of sex dolls to choose from, young sex dolls, BBW sex dolls, skinny sex dolls, and more. Sex doll forums can help to choose and avoid the risk to buy a low-quality brand.