Here we are again. Today, we got the new 3 stories about a porn star, SM lover, and European princess. They are all sexy as hell and ready for you to explore your sex desire. We are not only selling the realistic sex doll but willing to share their love stories with you so that you can easily connect to them and make you fantasy come to life.
158cm Thicc Sex Doll With Big Tits – Anne
Anne is an American sex doll with big rounded buttocks and boobs. She has the most attractive and typical American appearance with alluring green eyes. The leading advantage is her curvy figure, it's not only a visual pleasure to you but also fulfills your sex lust. She occupies a little tanned and flawless skin which is soft and silky to touch, she is nothing different from a real woman, except she can't talk. She works at home shooting her next porn video and is ready to serve you as your sex partner. She has super excellent sex skills and loves to suck your dick into her mouth over and over again, and she never feels tired and uncomfortable.
One day, I was watching on a live sex cam online and found Anne's video. She is the super attractive and special woman among those models, and she is totally my type, so I click her live room. She was playing the ukulele and wearing sexy lingerie that only covered half of her tits. She was so different unlike other models just showing their bodies and ask for attention. When I saw her playing the ukulele and singing the song, I totally indulged in her voice. I paid for the next 30 minutes, she will be mine then. She was so sexy with her huge tits but I didn't ask for sex. She was surprised as I like her singing. I told her that her voice was so beautiful, and she continued to sing for the next 15 minutes.
After that, we have a nice chat. She said she lived in Queens, where is not far from my house. I asked for a date this weekend. And she said yes. I guessed she had a crush on me as well. The day we met proved that I was right. When we finished dinner, we booked a hotel and continued the last chat, everything is so crazy and exciting that night. Now Anne is my girlfriend and moves to my place, we are a loving couple and I hope we could spend time with each other for the rest of my life.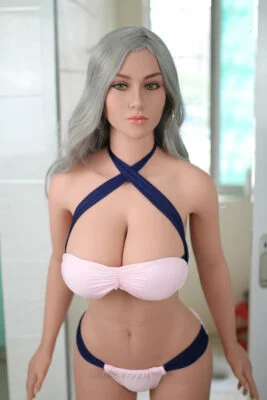 145cm Flat Chest Skinny Sex Doll-Lela
Lela is an American fancy lady sex doll with blonde short hair. She occupies huge D-cup boobs and wabbling round booty. And her eyes are sky blue to make her even more beautiful. Her small waist is easy for you to hold on to, she is a fan of SM and no one knows about it. If you like SM too, she is the right one for you. She works as a bank clerk in Baltimore. Everyone thought she is a quiet and shy girl, but you never know how wild she can get in the night.
I met her at a party which had been a little bit boring until she showed up. She wearing a long red tight dress that makes her body pretty stacked. Her rocking body drives me crazy, I flirted with her all night. And she seems to like me too and told me to followed her upstairs, then she closed the door and things get crazy. She took off her dress, the sexy black lingerie makes her boobs are so sexy and keep her in a good shape, I grabbed them in my hand and never feel this soft and smooth skin she has.
Afterward, she unzipped my pants, I can see the lust in her eyes. I was so turned on that it was a relief when she freed my cook and put it to her mouth. I watched my cock disappeared into her warm and wet mouth.
The only sound in the room was of her sucking and slurping while I groaned with pleasure. I couldn't last long if she kept it up. I slowly humped her face, fucking her mouth like it was a cunt. It was an unforgettable night for us.
158cm Realistic Princess Full Size Skinny Young Sex Doll-Gwendolyn
Gwendolyn is a 158cm fantasy sex doll who is a real princess. She comes with snow-white skin and long blond hair which makes her looks stunning. She has a slim body but with D cup tits that build her super curvy figure. Her clear blue eyes are so attractive, you may fell in love with her at the first sight. Nobody is capable to refuse any request of her when you have eye contact with her. She is a European princess that loved by her people. The loyal family taught her to behave and be a good girl. She was betrothed to the prince in the next country, it's a political marriage, she doesn't love him at all. Not every princess has a happy life with a prince. So she runs away.
One day, I was on the way to my home after the war, and the princess cab was broken, and wait for help on the road. I didn't recognize her as her face was cover with a veil. The cab should be fixed after tomorrow so I ask her to stay at my place. It's not far from here, so she agreed.
Everything is changed in that time. When we were back at my place and had a nice meal, she said she was tired and need sleep. We said good night then. I was wounded in the war so I need to clean my wounds, then I heard the door was knocked up, the princess said she couldn't sleep and want a accompany. But I was naked at that time, she saw my wounds and was ready to help, I let her. Her touch is soft and makes me tremble. I knew we both have a feeling for each other, and I kiss her on her cheek, she kissed me back on my lips. Her lips are so soft and juicy, I can't resist having her right now. Then we make love in the bedroom, bathroom, and everywhere I can imagine. Her vagina is tight as a virgin, it's wet and warm. It's been a crazy night.
She told me she is a princess afterward. And we decide to tell the king the truth and now we got married and live happily together. Princess does not always have to marry the prince though.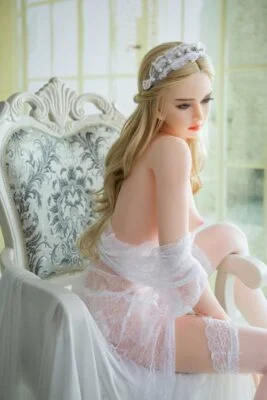 Wrap up
Do the Anne, Lela, and Gwendolyn stories fascinate? What is your love story with your doll? Do they have a name or the specific character that you want them to play? We would love to hear your story. If you never owned a love doll. Acsexdolls has a whole collection of sex dolls with different heights, styles, sizes, and prices, the best part? They got the lowest price in this industry but with high quality. Now it's your time to share about your love doll.