Sex dolls have now become a trendy masturbation toy for men or women. Having sex with your love doll will never feel pain and uncomfortable. Sex is the way to build intimacy with your partner. If there are any "ouch" moments during the sex, then it's time to change your sex position and strategy now.
When you receive your love doll and eager to have an intense moment with her, I know this is super exciting. But you need to know how to use the sex doll properly without hurting yourself and her, as well as find the best sex position to stimulate you most during sex.
In this article, we will introduce the best list of sex positions for you and your love doll. If you are a beginner buyer, this is for you. If you are an experienced one, it's time to add some spicy to your room.
Table of content:
Best sex positions for buying a female sex doll
Best sex positions for buying a male sex doll
5 Best sex dolls recommended
Best Sex Positions for Buying a Female Sex Doll
1. Missionary
"Missionary sex can be hot because of the intensity it can bring on—the skin-to-skin contact, eye contact, the close-up smells of each other's bodies, and just the mere closeness of two bodies," explains Debra Laino, DHS, a sex therapist and professor at Jefferson University and Wilmington University.
Missionary sex is a person who doing penetrating on the top and the other one laying underneath him for receiving. It's the most common and beginner way to start with sex.
Place your sex doll on the bed or sofa, and open her leg to make her expose in front of you. You can have a full view of your love doll's beautiful curvy body, thurst your penis into her vagina to have intense stimulation. If you want deep stimulation, put a pillow under her hips to achieve the most exciting moment. Her big and soft breasts are also the erogenous zones to play with. Sucking and squeezing her nipple will give you the most intense visual display. Skin-to-skin intimacy and eye-eye contact let you feel the most comfortable sex experience with a missionary sex position.
2. Doggy Style
Doggy style is one of the best sex positions to stimulate the g-spot and anal orgasm. The receiving partner is bent on their knees and hands and facing away from their giver. The giver penetrates his penis or dildo into the receiving partner to feel the strong and hard thrusting.
Place your sex doll in the doggy style position, and penetrate her from back to having intense intimacy. Her ass is built with the most realistic and soft material-TPE, so you can have the real sex experience. What's more, all the sex doll is molded by real women and even better than them, you can have your dream girl with big ass and big breast. Bigger ass sex doll is the super-visual display during the sex. If you are the kind of guy who likes anal sex, she will never say no to you, the doggy style is the best way to reach an anal orgasm. She won't feel any pain and uncomfortable, you can have it any time you want.
3. The cross
In fact, sex dolls are unlike a human who can pose position by herself. As the sex doll is not very light weight(100cm mini sex doll is only weight 35kg), so that she is not easy for any girl on top position. But the cross position is an easy way to go. Place your love doll at a certain angle until she can hook her knees over your legs before you enter her body. You can either prop your head up with your arm or rest it on your extended arm to see her sexy body. The cross position is to make you bear less weight of the sex doll, and also have deep stimulation during sex.
4. Jockey sex position
The Jockey sex position is the position look like a jockey riding a horse. I think this is the easy one just like the missionary position. Lay down your love doll, let her back against you and face down on your bed, and thrust into her anal or vagina as you like. You will be thrusting in and out. You will also be able to change your angle of entry easily by leaning forward or backward as well as moving your entire body either forwards or backward so that you can hit many different areas inside your love doll.
Best Sex Positions for Buying a Male Sex Doll
1. Cowgirl
Cowgirl is the best sex position if you own a male sex doll. On the top is easy to control the movement and the angle. You can lean forward slightly (up to a 45-degree angle) for the easiest and most comfortable penetration. Your male love doll just needs to lay down on the bed. As he has a very long and hard penis, you will have endless fun with him by doing the cowgirl position. His six-packs and handsome face will make you more exciting during sex. The dildo will never fall apart, you can ride him as many times as you want. The reverse cowgirl is also the way to increases the intensity of the penetration.
2. Sitting face-to-face
If you want more intimacy with your love doll, try the sitting face-to-face position. As the sex doll is built in 24 moveable joints so that he can pose any position as you like. Place him in a sitting up position, then you can ride him for deep and intense thrusting. He is strong enough to carry your weight and give you non-stop sex pleasure. This sex position puts less stress on your legs, making g-spot orgasm easier.
5 Best Sex Dolls Recommended
1. 100cm mini sex doll– Carrie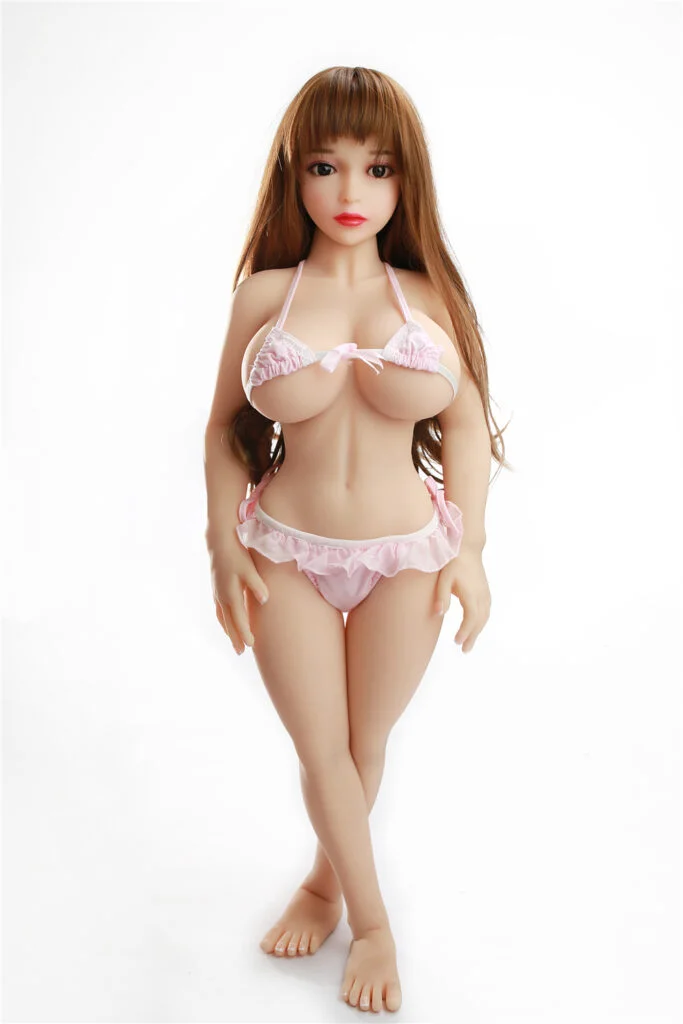 Carrie is a 100cm mini sex doll. She is small in size and only weighs 35kg, you can have any sex position with her. Made of TPE material which makes her super realistic and soft. If you like wild sex experience, you can take her out with a suitcase to a motel to have your two special moments without any disturbance. She has big boobs and a cute face that can easily arouse your protection of her. Although she is small, she can have anal sex, vagina sex, and oral sex.
2. Athletic sex doll– Connie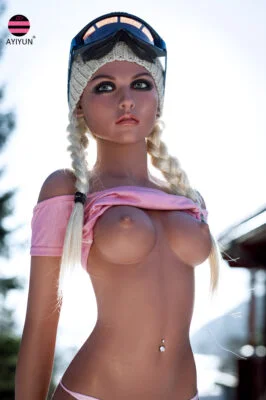 Bring a perfect athletic sex doll home to spend your lonely nights. She is the one who likes working out to keep her skinny and tight body. She is lives in American and has a tanned body that makes her an attractive woman. She enjoys skiing, the long and slim legs are easy for you to carry and move anywhere you like. She is the girl who likes doggy style, want you to penetrate her harder. She likes to try something new with you, if you have a new sex position to share with her, she would love to join you.
Busty silicone sex doll– Elizabeth
She is an Instagram star who attracts many men. Looking at her delicate face which is made by our best make-up artist, it's vividly. The big eye with the beautiful lifelike face is every man's dream girl. Her head is made of silicone material, and her body is made of TPE material, it's a perfect combination to achieve the most realistic sex doll. TPE material is the most lifelike and soft material to make a sex doll like nacy. If you like a Chinese girl to give you the most intense and exotic sex, she is your best choice. By the way, she is the one like the missionary position.
Male silicone sex doll– Anthony
Anthony is the best selling male sex doll in our store. Every woman crazy for him, because he is an honest and friendly guy. He is strong and has got short black hair, has beautiful green eyes, and an expression full of kindness. He tends to wear casual clothes like jeans and tee-shirts to show his perfect body. He has six-packs and a V-line that make him sexier. His big and long penis is waiting for you, it can stay hard forever. You will have as many as sexual pleasure with him. Laying by his side can make you feel super safe if you live alone. He is better than your ex-boyfriend, and never leave you for another girl. It is made of a silicone head and TPE body, it will give you the most realistic feeling touch.
Young male sex doll– Lay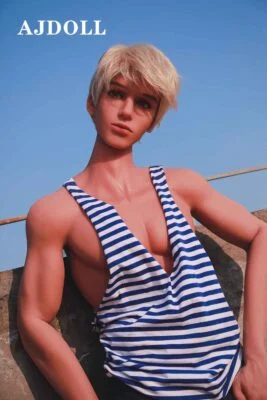 Lay is the youngest male sex doll in our store. He is a college student who is full of energy and adventure. Look at his blue eye and long eyelash that even make women envy. He is a Rugby Captain in the college and got a lot of girls' attention.
He doesn't care about them, and want to find someone older than him. He is 20 years old, the one that makes you feel young again. Bring him home to indulge yourself in non-stop orgasm.
Wrap up
Sex is not only the way to show intimacy for partners, but also let you enjoy the different form of sexual pleasure. The right sex position, make you reach orgasm quicker and more comfortable. The realistic sex doll is a good start for someone who doesn't have any sexual experience, you can try any sex position with her. For the experienced ones, it's time to bring a threesome into your bedroom and increase the sexual pleasure for your partners.